As you will come to know here over time, I am a huge foodie.  I'm not overly picky and I eat a LOT!   That said, it's kind of expensive.  However, occasionally I must splurge, as in the case with this delectable plate of delectableness: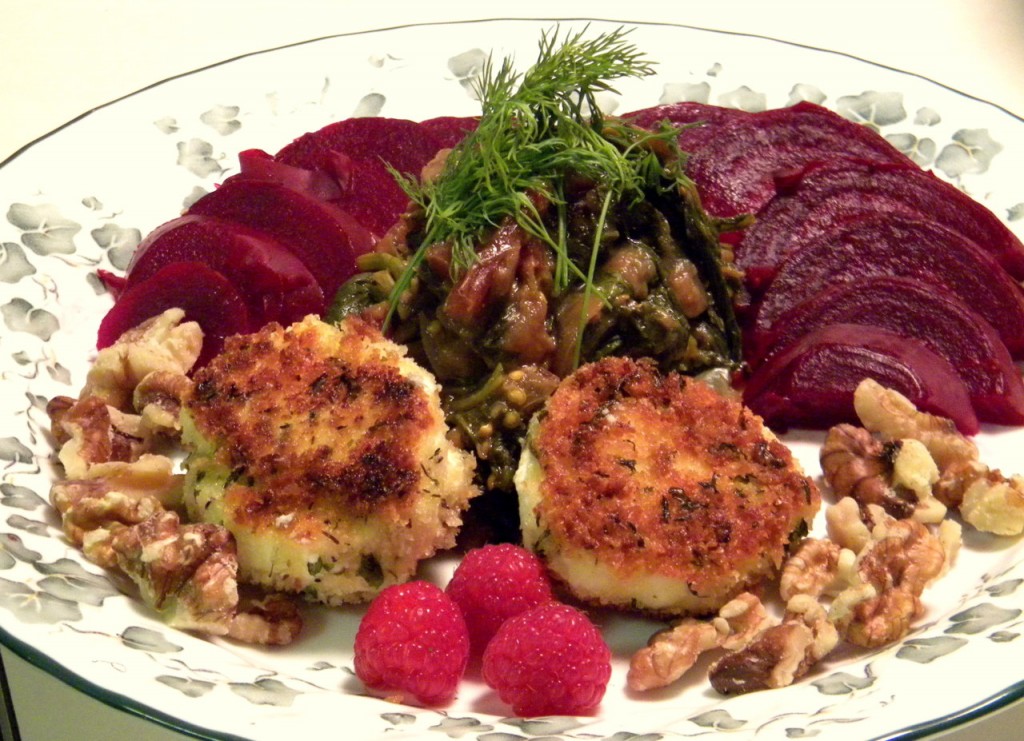 That's boiled beets, ginger-curry sauteed turnips, mustard, beet greens, white eggplant, and onion, and fried goat cheese, the foolproof method for which I found on my favorite foodie blog, The Hungry Mouse.   Of course, as you can see I garnished the greens with fresh dill and filled in the rest of the plate with walnuts and a few raspberries.  Turns out those last two things especially rounded out one of the best meals I've ever had if I do say so myself.
That was a few years ago, I think (I get really keen on food and don't tend to forget mouth-gasm quality stuff) – and then the other day the owner of the restaurant I work at came into the kitchen and said, "What about a beet and goat cheese kind of appetizer?"
I told him, "You speak-a my language."
Unfortunately, having been fresh out of most of the other things that made up the stir-fry and seredipitous-plate-space-taking-up stuff, I improvised with some dried cranberries instead.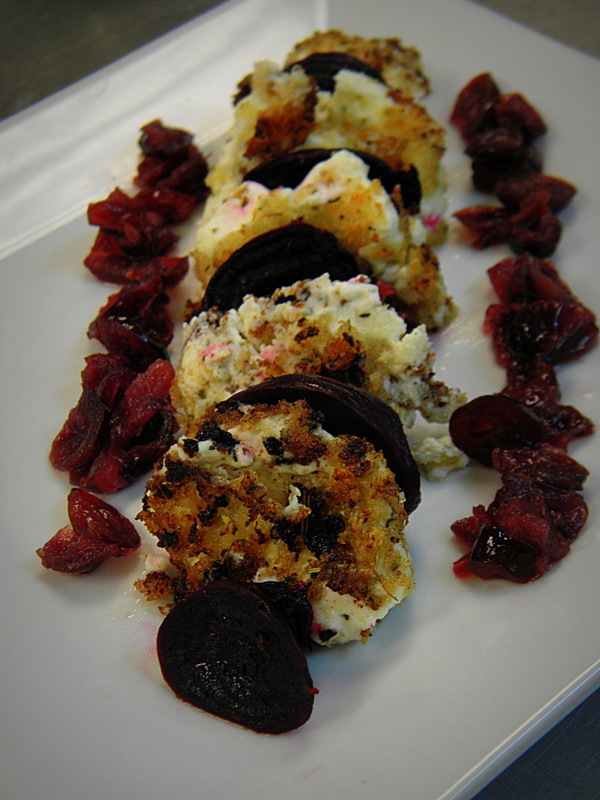 In a later version I actually made a light white wine and sesame-ginger sauce that I drizzled over the main items in question; also, the second time I remembered to go back and refresh myself over at The Hungry Mouse on that very important step of the flour and egg coating *before* the  breadcrumbs… so, you know, the cheese doesn't melt all over the pan before you are finished frying it.  Heh.
What's the most incredible thing YOU have put in your mouth??