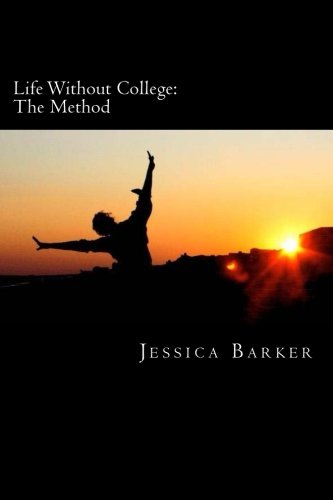 Well, I've written quite a few books in my lifetime, yes. Thank you for clarifying.
But truly: for the first time in my life, I have seen a book through from start to finish, from conceptualization to publication.  This book is called Life Without College: The Method.
It's not really as surreal as you would think, to have a book published.  Maybe it's because I self-published so it just seems kind of everyday to be thinking and looking at this book.  And, since I self-published, I had to figure out all the proper formatting myself, which was much more of a hassle than a dream come true, so mostly I'm just glad to have that over with.   Man, you think when you're a book geek that you just inherently understand formatting… that makes NO difference.
The book is one I've been working on since January of 2012, offering to people who came to CollegeRebellion.com in various not-so-great forms, and it is about how to figure out what you want in life and start getting it, with or without the traditional college path.
From the description on the back cover:
"You are considering rebelling against college to pursue your own path your way. You have very personal reasons for doing so, probably a lot of anger and frustration reasons. Do any of the following predicaments sound familiar?
– You know what you like doing, but you could never pick one thing to passionately focus on – You are intensely passionate about 10,000 different things and doubt if you could ever settle on one
– You know exactly what you want to do and are ready to get started
– You at least have a basic idea of what you want to do.
Whether it is concrete and defined like, 'Play cello with the London Philharmonic,' or more vague like, 'put college off indefinitely so I can figure out what I really want,' you have your own opinion of what sort of direction or goal you should be working towards right now. But how do you get from here to there? How do you even begin to begin? Let me show you how."
If any of y'all are interested, it is indeed available in print and for e-readers on Amazon.com – and I do highly recommend it as part of the process of deciding which path you want to choose and when, whether you would like to rebel against the notion that college is the truest path for everybody and must be pursued immediately, or if you want to just take a break from this notion and then "sell out" like I have.   😉
Happy reading, y'all!